Water Wars: US Hits Reset Button in Asia-Pacific
Friday, February 10, 2017, 8:28 AM
Trump administration formulates policy in the East, South China Seas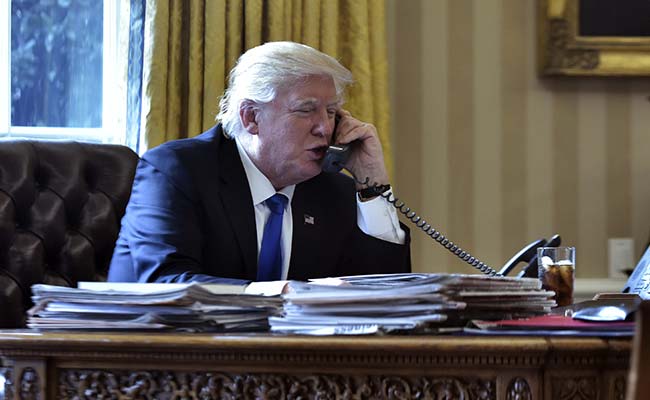 President Trump speaks on phone with foreign leader (Photo: NDTV)
Secretary of Defense James Mattis continued making waves throughout the Asia-Pacific as he wrapped up a visit to Japan and South Korea. Beijing was particularly vocal after Mattis confirmed that the Japanese-controlled Senkaku/Diaoyu Islands are covered under Washington's mutual defense treaty with Tokyo. Foreign Ministry Spokesperson Lu Kang "urge[d] the US side to take a responsible attitude, stop making wrong remarks . . . and avoid making the issue more complicated and bringing instability to the regional situation." Lu Kang also criticized Mattis' agreement with South Korea to continue developing THAAD, a missile defense system that China believes "will undermine the strategic security interests of regional countries."
Beijing was more supportive of Secretary Mattis' later statement that, "at this time, we do not see any need for dramatic military moves at all." Mattis went on to explain that, "our military stance should be one that reinforces our diplomats" and that Washington will "exhaust all efforts, diplomatic efforts, to try to resolve this properly, maintaining open lines of communication." Beijing did take exception, however, to Mattis' contention that China has, "shredded the trust of nations in the region" and that "freedom of navigation operations and other actions by US forces in the South China Sea contribute to maintaining maritime order based on the rule of law."
While this may seem like a rehash of the Obama administration's policy, sources privy to private conversation between Mattis and senior Japanese leaders suggest a harder line against Chinese actions in the region. Secretary Mattis reportedly said that patrols within 12 nautical miles of Chinese artificial islands would increase. He also likened Beijing's current strategy to the system of tributary states established during the Ming Dynasty (14th to 17th century) to create a regional sphere of military and economic influence.
Newly confirmed Secretary of State Rex Tillerson stuck to a similar script. In his first conversation with Japanese Foreign Minister Fumio Kishida Tillerson reconfirmed Washington's commitment to defending the Senkaku/Diaoyu Islands. In response, Chinese Foreign Minister Wang Yi urged Washington to "brush up on the history of World War Two," contending that the Cairo and Potsdam Declarations required Japan to return Chinese territories, including the Senkaku/Diaoyu and Spratly Islands.
Tillerson's written responses to confirmation hearing questions were also released this week. As Lawfare's own Julian Ku reports, they suggest that Tillerson is not pushing for a blockade of Chinese artificial islands or departure from the One China policy. In particular, Tillerson said that Taiwan "should not be treated as a bargaining chip."
The White House also seems to be moderating its messaging regarding US-China relations. President Trump, in a Spring Festival letter to President Xi Jingping, expressed his desire to "develop a constructive relationship that benefits both the United States and China." Foreign Ministry spokesperson Lu Kang responded that, "China is willing to work together with the U.S. to maintain the principles of no conflict or confrontation." National Security Advisor Michael Flynn also reached out to Chinese State Councilor Yang Jiechi, to affirm the Trump administration's commitment to strong, cooperative, bilateral relations. Flynn's conversation paved the way for a late night conversation between Presidents Xi and Trump. In that conversation, President Trump "agreed, at the request of President Xi, to honor our One China policy." This is a sharp turnabout from last week's news that Steve Bannon argued, in a March 2016 interview, that war between the US and China is inevitable "in five to ten years." Foreign Minister Wang Yi dismissed such statements as "campaign rhetoric" and said that Beijing would only assess "official policy statements made by the new administration after inauguration." An editorial in the People's Daily affirmed this stance, stating that military or trade conflict between the US and China would be calamitous.
To keep abreast of what Trump administration officials are saying about China, see this compendium from ChinaFile.
In other news...
China
In late breaking news, a US Navy P-3 plane came within 1,000 feet of a Chinese military aircraft in the vicinity of Scarborough Shoal. Such close encounters are infrequent – only two occurred in 2016.
Three Chinese Coast Guard vessels entered within 12 nautical miles of the Japanese-controlled Senkaku/Diaoyu Islands this past Monday. Japan lodged protests both through the embassy in Tokyo and Foreign Ministry in Beijing. It is believed to be the fourth such transit this year. In other news, Beijing's newly formed Rocket Force held an exercise with advanced DF-16 medium-range ballistic missiles, which have a range of over 1,000 kilometers. Participating units simulated a number of scenarios, including countering satellite reconnaissance and electronic jamming. Finally, the Information Telegraphic Agency of Russia reported that Moscow will deliver its second batch of ten SU-35 fighter jets to Beijing this year. Russia and China had signed a contract for 24 SU-35 fighter jets in November of 2015.
Reports attest that President Xi Jinping is considering revising China's Anti-Secession Law, which stipulates the conditions under which China would take "non-peaceful" means to defend national sovereignty, i.e., take control of Taiwan. Analysts believe the move may be in response to the Trump administration's apparent openness to a more independent Taiwan. Relatedly, the State Council released a report on its plan for protecting national sovereignty through 2030. Notwithstanding these developments, and contrary to commonly held belief, a recent report from Alastair Iain Johnston at the Belfer Center finds that popular nationalism is, in fact, not increasing.
United States
The Missile Defense Agency successfully tested the M-3 Block IIA missile interceptor, developed jointly with Japan. The M-3 Block IIA missile is designed to shoot down ballistic missiles. In this test, which took place off the Hawaiian island of Kauai, the USS John Paul Jones detected, tracked, and took out a targeted ballistic missile. Similarly, the US and South Korea will integrate strategies to detect, defend, disrupt, and destroy North Korean missiles into upcoming Key Resolve joint military exercises. Finally, the US will deploy E-2D Advanced Hawkeye surveillance aircraft to Iwakuni Marine Corps Air Station in Japan. This aircraft can identify supersonic cruise missiles flying at low altitudes and guide interceptor missile systems like the M-3 Block IIA.
The Philippines
Defense Secretary Delfin Lorenzana told reporters that he doesn't think President Trump will start a war with China over the South China Sea because he "is a businessman and he knows that if war breaks out, businesses with suffer." Nevertheless, Lorenzana expressed concern about the possibility of Chinese construction at Scarborough Shoal – a hotly contested reef 123 miles west of Subic Bay. Chinese and Filipino vessels enjoy equal right of access to fishing grounds surrounding the shoal after years during which China expelled Filipino fishermen from the surrounding area. Lorenzana said that, "If we allow them, they will build [at Scarborough Shoal]. That's very, very disturbing," given the shoal's proximity to the Philippines. The Secretary opined that China aims to "encroach on [the] South China Sea because they believe [it] is – that's like their lake to them – theirs"
Last week's snafu with Washington concerning the construction of warehouses on Philippine bases seems to have been resolved. President Duterte, after initially insinuating that the United States was bringing weapons into the Philippines, ultimately permitted US barracks and fuel depots to be built on bases included in a 2014 defense agreement. In addition, the Philippines asked Washington to help guard a major sea-lane (the Sibutu Passage) that has come under increasing pressure from Islamic militants. Manila had asked Beijing to help guard the passage last week.
Greater bonhomie with Washington did not require turning away from Beijing. Secretary Lorenzana presented China a list of defense equipment that it hopes will be included in a $14 million grant signed during President Duterte's visit to Beijing. The list included precision-guided munitions. At the same time, ASEAN started discussions on the long-awaited Code of Conduct in the South China Sea. Negotiations are currently focusing on two highly contentious issues: non-militarization of occupied features and restraint with regard to activities in the South China Sea.
Taiwan
US defense commitments to Japan regarding the Senkaku/Diaoyu Islands also raised hackles in Taiwan, which like mainland China has a sovereign claim to the chain. Taipei's Ministry of Foreign Affairs reiterated that the islands are part of the Republic of China and committed to communicating with the United States on their sovereign claim. The opposition Nationalist Party (KMT) called the government's response "spineless" and demanded a stronger response.
President Tsai also agreed to move the Legislature to expedite a bill that would monitor negotiations between Taipei and Beijing given increased uncertainty regarding conditions for Taiwanese investors in the mainland. In other news, the Ministry of Education and Ministry of Defense have teamed up to allow elementary school teachers who teach about national defense to participate in what is known as the Nansha (Spratly Islands) Camp. Twenty-one teachers will be selected to travel to Taipei-occupied Taiping Island and learn about strategic planning in the South China Sea.
Japan
After meeting with Secretary Mattis Defense Minister Tomomi Inada told reporters that Japan's Self-Defense Forces would not participate in freedom of navigation operations in the South China Sea. She did say that Japan "will pay its role through defense cooperation and training." Japan continues to be busy with training and support missions – this week three Self-Defense Force vessels visited Cambodia.
Prime Minsiter Abe will meet with President Trump today. This will make Abe the first foreign leader to meet with Trump since the inauguration. Prime Minister Abe is expected to confirm Washington's commitment to defending the Senkaku/Diaoyu Islands and propose future cabinet-level talks.
Indonesia
Jakarta and New Delhi have agreed hold their first-ever joint air combat exercises, as well as deepen maritime security cooperation and upgrade existing joint Army exercises. Indonesia is also reaching out to Australia after clearing up a diplomatic fracas that temporarily put military ties on the rocks. President Joko Widodo is slated to visit Australia at the end of this month.
Thailand
After an extended period of internal turmoil, including a military coup and the death of the country's longstanding king, the military government declared that elections will be held in one year.
Analysis, Commentary, and Additional Information
We start off this week with a new report from the Asia Maritime Transparency Initiative on Chinese construction in the Paracel Islands, a less discussed aspect of the South China Sea dispute these past few months. Gary Sands at the Foreign Policy Association also analyzes reactions from around the region on White House Press Secretary Sean Spicer's statements concerning the South China Sea. Steven Stashwick at The Diplomat concludes that China can neither be dislodged from nor control the South China Sea. Harry Kazianis at The National Interest presents five reasons why China and the United States could go to war – all of which center around the East and South China Seas. Grant Newsham, also at The National Interest, argues that geography is not on China's side in its quest to control the South China Sea.
East Asia Forum has three important articles this week. First, Michael Swaine outlines strategies for managing Asia-Pacific security threats under the Trump administration. Andrew Chubb argues why Vietnam's recent behavior should not be seen capitulating to Chinese demands. Zhang Yunling discusses how China might work with partners to build a more stable regional community.
Andrew Erickson of the US Naval War College China Maritime Studies Institute released three important pieces of analysis this week. First, in the National Interest, Erickson explores how the US might respond to China's unprecedented naval buildup. At The Diplomat he considers what changes to expect in the Chinese Navy now that Admiral Wu Shengli's tenure has come to a close. Finally, he finds that a Hainan Provincial Government proposal can give us important clues as to new maritime militia activities.
Water Wars is our weekly roundup of the latest news, analysis, and opinions related to ongoing tensions in the South and East China Seas. Please email Chris Mirasola with breaking news, relevant documents, or corrections.