Water Wars: Shifting Strategies in the South China Sea
Friday, September 16, 2016, 7:58 AM
How do you manage a partner like Duterte?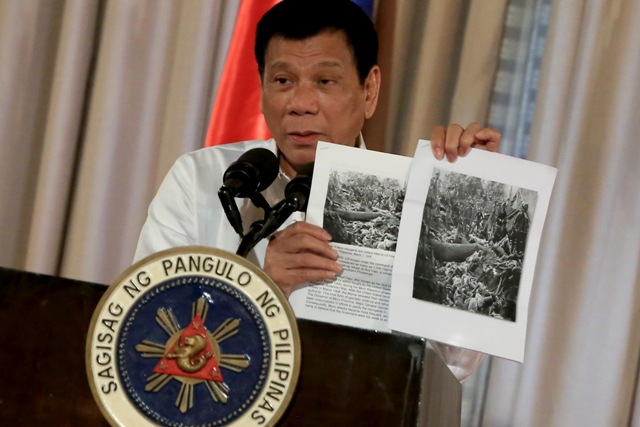 President Duterte showing photos of the Bud Dajo Massacre (Photo: PPD/Rey Baniquet)
President Rodrigo Duterte of the Philippines once again roiled the region's foreign policy establishment by suggesting a significant shift in Manila's engagement with Washington. On Monday he said that U.S. Special Forces combatting terrorist groups in the southern island of Mindanao "have to go." The next day he also announced that joint patrols with the U.S. in the South China Sea would end and hinted at buying arms from China and Russia. Later on Tuesday Duterte revealed that he had declined China's offer to provide him a plane for personal use. The next day Chinese Vice Foreign Minister Liu Zhenmin, welcoming these developments, remarked that relations between the two countries "are at a new turning point."
Statements from other Philippine officials, however, seemed to belie some of these assertions. Defense Secretary Delfin Lorenzana, for example, told the Philippine House Appropriations Committee that American soldiers are still needed in Mindanao and that the Philippines "will maintain the status quo in the West Philippine Sea." He insisted that the U.S.-Philippines relationship is "rock solid," yet also noted that President Duterte will "talk with others who can give us quality equipment to strengthen our defense." Presidential Spokesperson Ernesto Abella later clarified that Duterte's statements were not "policies set in stone" and "could be interpreted in several ways."
These conflicting statements have confounded government officials and scholars alike. ASEAN leaders reportedly sat "quiet and shocked" as Duterte set aside a speech affirming the Philippines' maritime rights and instead delivered an indictment of U.S. military action at last week's summit. Australian Foreign Minister Julie Bishop asked Duterte to clarify what the Philippines would do to support the arbitral tribunal's decision after he declared that the Philippines would not patrol waters beyond its territorial sea. Some pundits have traced Duterte's behavior to the fact that he is "not a fan" of the United States and his desire to chart a more independent foreign policy for the Philippines. Whatever the reason, Andrew Erickson and Ja Ian Chong argue that the U.S. must think critically about how to manage more ambivalent partners like President Duterte.
In other news...
China
As U.S.-Philippine ties soured, Sino-Russian relations got a boost as President Vladimir Putin publicly supported China's non-recognition of the China-Philippines arbitral decision.
This new spirit of bonhomie was reinforced by eight days of joint naval drills in the South China Sea, in which both countries practiced defense, rescue, anti-submarine, and "island seizing" operations. This joint drill was first announced in July and is the fifth of its kind since 2012. Chinese Navy Spokesperson Liang Yang said the drills would "improve coordination between the two navies on joint defense operations."
The week the Chinese Air Force also began an aerial exercise through the Bashi Channel, which separates Taiwan from the Philippines, and into the West Pacific. The Air Force said that these drills would focus on "flying over island chains, controlling the East China Sea and cruising the South China Sea." The Coast Guard also announced the start of a new crackdown on fishing boats "operating outside their designated waters" in the East China Sea, Sea of Japan, and waters surrounding Northeast Liaoning, East Shandong, and Jiangsu Provinces. Finally, a Singaporean frigate, the RSS Steadfast, conducted a joint drill with the Chinese Navy in the mouth of the Yangtze River this Sunday, the first bilateral exercise between China and Singapore this year.
The military departments were not the only Chinese entities busy this week. The China National Offshore Oil Corporation began production at its oil field in the South China Sea and a research institute was established at Hainan University to study ancient Chinese sailing instructions, on the theory that they will support China's maritime claims. The Ministry of Defense also published (in Chinese) a report on the use of commercial vessels to project the military's influence.
Vietnam
Prime Minister Nguyen Xuan Phuc made his first visit to China as Prime Minister this week and told Premier Li Keqiang that, "maritime issues [should not] affect bilateral ties." Premier Li similarly urged the two countries to work together to maintain stability and manage disputes in the South China Sea. President Xi reflected a similar sentiment, saying that common interests between China and Vietnam far outweigh their differences.
Japan
Given China's new crackdown on fishing boats, it is perhaps unsurprising that the Japanese Coast Guard encountered four Chinese Coast Guard vessels within the territorial sea of the Senkaku/Diaoyu Islands. This is the first such incursion since President Xi Jinping and Prime Minister Abe spoke at last week's G-20 Summit. Nevertheless, senior maritime officials from both countries met this past Wednesday to discuss instituting a system that would prevent unintended clashes in the East China Sea and possibly restart talks on joint gas development.
The Philippines
Last week's kerfuffle regarding increased Chinese activity at Scarborough Shoal continued as the Philippine Department of National Defense said that it would "constantly" conduct monitoring and surveillance missions in the area. And notwithstanding his revised statement at last week's ASEAN summit, President Duterte joined with Indonesian President Joko Widodo this week to "express concern over recent developments in the region including the South China Sea" and "call[] on parties to respect rule of law." Philippine Foreign Affairs Secretary Perfecto Yasay Jr. also announced that President Duterte and Prime Minister Abe will meet in the next few months to discuss maritime security, among other topics.
United States
There was some good news for U.S. officials this week. Japanese Defense Minister Tomomi Inada reinforced Japan's commitment to supporting regional navies in the South China Sea and "strongly support[ed] the U.S. Navy's freedom-of-navigation operations." Also in Washington, Air Force Secretary Deborah Lee James criticized China for continuing to build "on certain islands" and called on China "to respect the rule of law and freedom of navigation."
In unrelated news, a Taiwanese Ministry of National Defense official said that the United States will approve the sale of MK-48 heavyweight torpedoes after a delay of several years. Though neither government has officially confirmed the agreement, Defense News reports that the torpedoes will be installed on Taiwan's two remaining combat attack submarines. Though neither government has officially confirmed the agreement, Defense News reports that the torpedoes will be installed on Taiwan's two remaining combat attack submarines.
Analysis, Commentary, and Additional Information
As the two-month anniversary of the South China Sea arbitral tribunal ruling came and went, scholars continued to ponder the ruling's effect on the region. Julian Ku from our very own Lawfare argues that only the United States has the resources to make enforcing the arbitral award a meaningful priority. Mark Rosen at the Center for International Maritime Security posits a number of hypothetical Chinese reactions to the tribunal ruling, and finds that they would not meaningfully advance its regional interests. Indeed, Brian Moore and Brad Glosserman at The National Interest go so far as to say that China's strategy in the East and South China Seas has fundamentally failed. Finally, Shi Jiangtao at the South China Morning Post finds that silence from ASEAN countries regarding the tribunal ruling does not necessarily mean that the region is ready for a new relationship with China. Interestingly, the Editorial Board of The Manial Times seems to disagree.
Scarborough Shoal has also lingered as a topic of scholarly debate after last week's construction scare. IHS Jane's 360, perhaps unsurprisingly, notes that construction at Scarborough would increase the risk of armed conflict. Shannon Tiezzi at The Diplomat explains why it would be a strategic mistake for China to start construction at this juncture. Wallace Gregson at The National Interest is less sanguine on the likelihood of Chinese construction, arguing that tougher strategies are needed in responding to Chinese control of Scarborough Shoal.
Concern about the trajectory of a variety of bilateral relationships also featured in this week's discourse. J Berkshire Miller at the Asia Policy Forum traces the deterioration of Sino-Japanese relations as confrontation increased in the East China Sea. A recent poll by the Pew Research Center reinforces this conclusion, finding that only 11% of Japanese and 14% of Chinese citizens have a positive view of the other country. Yao Yunzhu at China-US Focus is more positive about the Sino-American relationship, finding that military ties have progressed to a more positive "new normal." Euan Graham at The Interpreter argues that more direct Russian support for China's maritime claims, and this week's joint exercise, runs the risk of alienating Putin's partners in Southeast Asia. Minnie Chan at the South China Morning Post, on the other hand, writes that analysts should be more circumspect about the practical importance of Sino-Russian joint exercises.
Finally, two interesting articles on private companies and the South China Sea. First, The Wall Street Journal reports that Google Maps, when accessed from its Chinese address, shows the nine-dash line. Second, Xue Gong at the S. Rajaratnam School of International Studies released a report outlining how increased activities by Chinese corporations in the South China Sea has complicated Beijing's foreign policy in the region.
Water Wars is our weekly roundup of the latest news, analysis, and opinions related to ongoing tensions in the South and East China Seas. Please feel free to email Chris Mirasola with breaking news or relevant documents.