Water Wars: Series of Summits Highlights Persistent Divisions in the South China Sea
Friday, September 9, 2016, 8:03 AM
Much Ado About the Same Things at G-20 Summit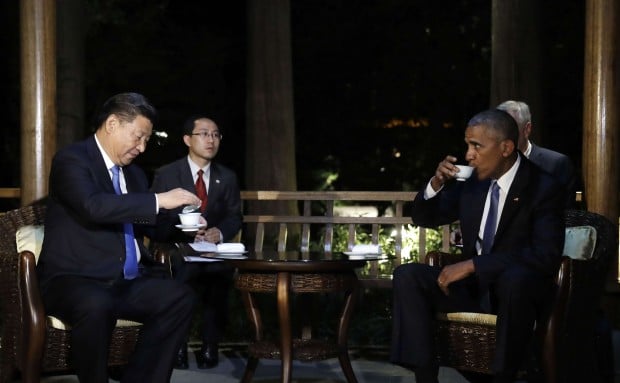 President Xi and President Obama pre-summit meeting (Photo: South China Morning Post)
Staircase snubs notwithstanding, world leaders traded familiar talking points at this year's G-20 Summit in Hangzhou, China. President Barack Obama stated that China should "abide by international law" and warned of "consequences" for "violating international rules and norms." President Xi Jinping called on the United States to "play a constructive role" in the region's peace and stability, but reiterated that China would continue to safeguard its sovereignty and maritime rights. President Obama similarly underscored "the United States' unwavering commitment to the security of its treaty allies."
President Xi and Prime Minister Shinzo Abe met just after the G-20 Summit for the first time in 17 months and pledged to increase dialogue on disputes in the East and South China Seas. More concretely, the two sides agreed to expedite talks on a proposed "maritime and air liaison mechanism" to prevent unexpected clashes at sea. As the Japan Times reports, however, this is almost exactly the same pledge made by President Xi and Prime Minister Abe in 2014. As a sign of the continuing tension, President Xi said that Japan should "exercise caution in words and deeds" and Prime Minister Abe called actions by Chinese vessels near the Senkaku/Diaoyu Islands "regrettable."
ASEAN Divisions Persist at East Asia Summit
ASEAN leaders with President Obama (Photo: VNA)
The South China Sea continued to overshadow talks at ASEAN's East Asia Summit later in the week. ASEAN's joint statement noted "the concerns expressed by some Leaders on the land reclamations [sic] and escalation of activities" in the South China Sea, but did not mention the recent China/Philippines arbitral tribunal decision. Instead, China and ASEAN adopted communications protocols and established hotlines to avoid potential clashes at sea. Both sides also reaffirmed their respect for freedom of navigation and overflight and agreed to resolve territorial and jurisdictional disputes by peaceful means. Thai Spokesman Major General Weerachon Sukondhapatipak also said that, "Promoting peace and stability in the ocean is important to all parties and Thailand support China's efforts in this regard."
This bonhomie, however, did not dispel other world leaders' security concerns. Philippine President Rodrigo Duterte, for example, stressed the importance of adhering to the rule of law in the South China Sea, though he did not explicitly mention the tribunal decision. Australian Prime Minister Malcolm Turnbull urged "all parties [to] work together openly in accordance with the rule of law" to avoid conflict. Prime Minister Abe was more direct, stating his hope that, "both parties to the dispute in the South China Sea will abide by the ruling by the China-Philippines tribunal court." President Obama also supported the tribunal decision, saying that it "helped to clarify maritime rights in the region." Chinese Vice Foreign Minister Liu Zhenmin, in response, argued that it was "untimely and inappropriate" to "use the occasion of the East Asia Summit to talk about the South China Sea, particularly to press on the regional countries to abide by the arbitration." Premier Li Keqiang also asserted China's willingness to work with ASEAN countries to "dispel interference" in the region.
In other news...
The Philippines
Chinese and Philippine officials traded recriminations throughout the week as to whether China was engaged new activity at Scarborough Shoal. On Friday, President Duterte claimed to receive intelligence reports showing possible Chinese structures on the shoal. By Sunday, Defense Secretary Delfin Lorenzana told reporters that, "there were four Chinese coastguard ships and six other vessels, including blue-coloured barges, around Scarborough Shoal." The Philippine Department of Foreign Affairs summoned the Chinese Ambassador that same day for an explanation. On Monday, however, Chinese Foreign Ministry Spokesperson Hua Chunying insisted that China's presence at Scarborough Shoal had not changed. Two days later Defense Minister Lorenzana released images of the ten vessels, shown to be less than a mile from Scarborough Shoal. Shortly afterwards the Chinese embassy in Manila admitted the presence of additional patrol ships and fishing vessels, but continued denying that they were involved in dredging or building activities. These events follow on reports in April that China has plans to build military facilities on Scarborough Shoal.
Prime Minister Abe announced that Japan would provide the Philippine Coast Guard two 90-meter patrol vessels, the largest it has ever given another country, and was prepared to lend up to five used surveillance aircraft. Despite some harsh language from President Duterte, the United States is also set to give the Philippine Coast Guard two 30-seat Sherpa aircraft by December.
Vietnam
Vietnam picked up military assistance as well this week as Prime Minister Abe offered Prime Minister Nguyen Xuan Phuc a low-interest loan to acquire additional Japanese patrol ships. Prime Minister Narendra Modi also extended Vietnam a $500 million line of credit for defense cooperation and offered to upgrade their ties to a "comprehensive strategic relationship."
China
Air Force chief Ma Xiaotian announced on Friday that China is developing a new strategic bomber that would significantly increase its long-range strike ability. Ma would not disclose when the bomber would be deployed.
The mayor of Sansha (China's administrative center for the Spratly Islands, Paracel Islands, and Macclesfield Bank) released a report claiming that it had sent vessels to drive away at least 370 foreign ships from disputed waters in recent years. The report also said that the Sansha government spent more than 1 billion RMB, over 149 million USD, to improve living conditions and transportation on the islands and atolls under its jurisdiction.
Taiwan
The Coast Guard Administration announced that live-fire drills would take place next month off the coast of the Pratas Islands and Taiping Island (Itu Aba), both controlled by Taiwan. The drills will include testing 20-millimeter autocannons and 40-millimeter grenades.
A panel of Taiwanese legal experts called upon President Tsai Ing-wen to establish a task force on the South China Sea tribunal ruling to clarify misunderstandings they claim have been spread by the government and local media. A separate group of legal experts is also urging the Tsai administration to reconsider its approach to the tribunal's ruling in light of Taiwan's unique legal and political situation.
Japan
The Ministry of Defense's 2017 budget request calls for developing surface-to-ship missiles that could reach the Senkaku Islands for Japan's fighter jets and maritime patrol aircraft. This missile system would be scheduled for deployment in 2023. The requested budget, which would represent a 2.3% increase in defense spending, would also fund a mobile amphibious unit with more than 2,000 troops, personnel exchanges with the Philippines and Vietnam, and strengthening Coast Guard installations in the East China Sea.
Australia
U.S. Army Pacific Command Assistant Chief of Staff Colonel Tom Hanson, speaking in his personal capacity, made waves this past week when he asserted that "Australians need to make a choice" between their "alliance with the United States and . . . economic engagement with China" on Australian television. Pentagon spokesman Commander Gary Ross reiterated that Colonel Hanson was expressing his "personal view" and that "Australia has strong, multifaceted ties with its Pacific neighbors, including China, just as we seek the same."
Analysis, Commentary, and Additional Information
ASEAN meetings always mean one thing – another round of discussion on the multilateral organization's future. Matthew Davies at East Asia Forum sets the scene by outlining three fundamental challenges to ASEAN's status as an essential unifying force in the region. Chong Koh Ping, writing in the Straits Times, asserts that these difficulties will only be exacerbated by joint Russian-Chinese naval exercises scheduled for September 19th. Robert Manning at Nikkei Asian Review proposes steps that would improve ASEAN functionality, including moving to majority-vote decision-making. Keoni Indrabayu Marzuki and Adhi Priamarizki at East Asia Forum zoom in on Indonesia's specific difficulties in realizing its ambition to become a "global maritime fulcrum." Ristian Atriandi Supriyanto at New Mandala also criticizes Indonesia's focus on the Pacific Ocean, almost to the exclusion of the Indian Ocean, as part of this strategy.
It's been a busy week at CSIS. ChinaPower released yet another fascinating report, this time looking into China's maritime law enforcement forces. The authors find that the Chinese Coast Guard has been implicated in two-thirds of clashes and standoffs in the South China Sea since 2010. Reuters provides a quick summary of these conclusions. The Asia Maritime Transparency Initiative (AMTI) published two reports: (1) a detailed article with updated satellite photos and analysis of Chinese military activity in the Spratly Islands, and (2) an interactive map that allows users to compare maritime disputes in 2000 and 2015.
The arbitral tribunal's decision continues to elicit substantial commentary. Mark Valencia at the South China Morning Post explores the decision's implications for maritime claims arising from declared "islands" around the world. AMTI updated its analysis of international support for the arbitration and, for those who have not yet visited, provides a great map on the decision's practical significance. Bonnie Glaser at International Business Times takes the arbitral decision as a starting point for her argument that the next U.S. President should make ratifying the UN Convention on the Law of the Sea a priority.
A number of articles provide interesting, and less discussed, takes on the South China Sea dispute. Sara Hsu at Forbes argues that energy insecurity is at the heart of China's interests in the South China Sea. On the other side of the coin, Abhijit Singh at AMTI highlights the South China Sea's looming environmental crisis. For more on this issue, see Pia Ranada's article on a motion filed with the International Union for Conservation of Nature to declare the South China Sea a "marine peace park." Will Glass at the Christian Science Monitor posits that China may begin to extend disputes in the South China Sea to the digital domain while Sagara Kusuma at the Jakarta Post sounds a more optimistic note by outlining novel proposals for peaceful dispute settlement. And finally, for those Mandarin-readers in the audience, a fascinating transcript of Jin Canrong's speech on China's evolving policy in the South China Sea.
Water Wars is our weekly roundup of the latest news, analysis, and opinions related to ongoing tensions in the South and East China Seas. Please feel free to email Chris Mirasola with breaking news or relevant documents.