Water Wars: Laying the Groundwork for Competition and Cooperation in 2017
Friday, January 6, 2017, 8:00 AM
Duterte administration charts Beijing-friendly course in South China Sea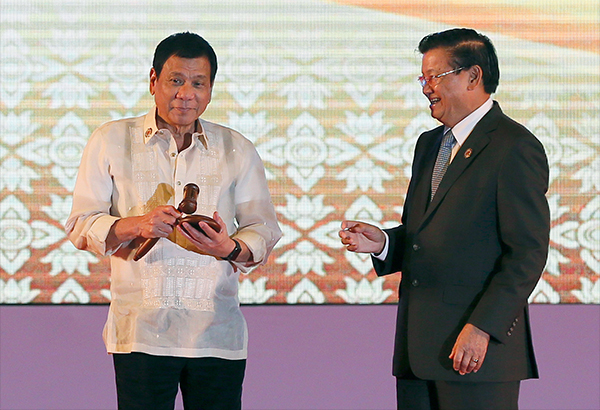 Duterte accepts gavel to symbolize handing over of ASEAN chair from Laos PM (Photo: PhilStar)
Philippine officials started 2017 with a bang as Manila began its one-year tenure at ASEAN's helm. Manila's theme for its ASEAN chairmanship is "We Are Partners for Change Engaging the World." Department of Foreign Affairs Undersecretary Enrique Manalo confirmed that South China Sea disputes, and the unfinished Code of Conduct in particular, would be on ASEAN's 2017 agenda. However, at the same press conference Undersecretary Manalo contended that "'there's no need to really discuss The Hague ruling because it already exists. It's already part of international law, so it's there." Foreign Secretary Perfecto Yasay made a similar point, telling reporters that, "The PCA arbitral ruling on the South China Sea is final and binding only between the parties. No discussion of the ruling by ASEA is going to change it or result in its implementation without the use of force except through our peaceful bilateral engagements with China."
Manila has articulated this more Beijing-friendly tilt foreign policy in increasingly concrete terms since the beginning of Duterte's administration (see, e.g., here, here, here, and here). This week was no different. The new Philippine Ambassador to China, Jose Sta. Romana, told reporters that, before Duterte, Manila was "one-sidedly imbalanced in favor of the US." He went on to say that whereas "the Chinese viewed the Philippines as a geopolitical pawn or Trojan horse of the US[,] [n]ow they look at us as a friendly neighbor." Additionally, Sta. Romana explained that the Duterte administration is looking to "delink" the South China Sea dispute from more robust bilateral cooperation on other issues.
This week provided a few hints of this policy's future contours. Ambassador Romana said that Manila is studying the prospect of jointly exploring natural resources with China in disputes areas of the South China Sea. At the same time, President Duterte asserted that Manila would confront China, and bring up the arbitral ruling in negotiations, if China unilaterally explores resources in contested areas of the South China Sea. This statement, however, should not be seen as heralding renewed bonhomie with Washington. President Duterte asked Defense Secretary Lorenzana to move joint naval exercises with the United States away from the South China Sea so that Manila might be "sensitive of our neighbors."
Manila's renewed focus on relations with Beijing may extent to cooperation with a wider range of States traditionally at odds with the United States. Two Russian warships arrived in Manila for what the Philippine Navy called a "goodwill visit." Russian Rear Admiral Eduard Mikhailov also expressed the hope that Russia, the Philippines, China, and Malaysia would conduct military exercises in the South China Sea "in a few years." This was only the third visit to the Philippines by Russian military vessels. Russian Ambassador Igor Anatolyevich Khovaev encouraged Manila's "diversification" of foreign partners, saying that, "your traditional partners should respect the interest of the Philippines and Russia." Khovaev went further, offering to supply a wide range of "[s]ophisticated weapons. Not the second-hand ones."
Philippine officials were keen to note, however, that less dependence on the United States wouldn't require wholesale capitulation. Defense Secretary Delfin Lorenzana, for example, asserted that, "Our entitlement to our EEZ [Exclusive Economic Zone] remains. We are not giving up our EEZ. President Rodrigo Duterte's statements on setting aside [the arbitral ruling' means 'not to discuss it yet.'" Additionally, at the same time as two Russian vessels docked in Manila three Japanese warships ported in the former US base at Subic Bay.
In other news...
China
President Xi Jinping pledged to defend China's sovereignty and maritime interests in a New Year's address published on Saturday. Xi said that the "Chinese people will never allow anyone to get away with making a great fuss" about China's sovereign claims and hoped that relations with Taiwan would progress in the "correct direction" of greater ties, peace, and stability.
To this end, officials defended last week's military exercises by China's sole aircraft carrier (the Liaoning). The People's Liberation Army – Navy announced that the carrier's J-15 fighters conducted flight exercises in the South China Sea. The carrier group also conducted helicopter exercises, though a location was not disclosed. Foreign Ministry Spokesperson Geng Shuang told reporters that, this week, the Liaoning and its accompanying ships "are testing weapons and equipment and running exercises in the relevant waters of the South China Sea." The Deputy Political Commissar of the Liaoning told reporters that the aircraft carrier would "increase the difficulty and intensity" of training in 2017. The People's Daily Online also defended China's right to deploy missile systems to artificial islands in the South China Sea, responding to reports in western media to that effect last week.
Beijing also took a variety of other steps to consolidate its position in the South China Sea. The Yomiuri Shimbun reports that in 2016 China extensively researched underwater features near Japan's claimed EEZ and filed fifty applications with the International Hydrographic Organization to give the features Chinese names. The Chinese State Oceanic Administration also began reporting weather forecasts from three Chinese-controlled reefs in the South China Sea. Beijing also started building its first offshore nuclear power plant, announced last year, that will serve as a model for powering Chinese projects in the South China Sea. In other news, Beijing and Seoul agreed to a framework to reduce fisheries conflicts near the North Korean border, including reduced fishing quotas in jointly administrated waters.
Taiwan
The Liaoning's sail-by of Taiwan last week reinforced heightened tension between Taipei and Beijing that has existed since President Tsai Ing-wen came to power. Tsai condemned Beijing's "gradual[] returning to the old ways of dividing, suppressing and even threatening and intimidating Taiwan," saying that Taipei "will not yield to the pressure." Reports indicate that the People's Liberation Army may not heed these calls. Officials are considering a range of options to retaliate against perceived moves towards Taiwanese independence, including crippling economic measures and conducting war games off the island's coast. Taipei Defense Ministry Spokesperson Chen Chung-shi responded to these reports by asserting that, "we are fully prepared, and plan for the worst while preparing for the best."
Following a widely noted name change for Japan's liaison to Taiwan, Japanese Representative to Taiwan Mikio Numata called upon leaders from both sides to "work together on bilateral ties, which are already at their best in history." More provocatively, President-elect Trump left open the possibility of meeting with Taiwan's president if she visits the United States after his inauguration. Chinese Foreign Ministry Spokesperson Geng Shuang responded to the news by reiterating that, "the Taiwan question is the most important and sensitive one in China-US relations."
United States
It was a week of military deployment news for Washington. The USS John McCain rang in the new year with a patrol of the South China Sea. The aircraft carrier Carl Vinson, along with a group of destroyers and cruisers, was scheduled for a western Pacific cruise late this week. Moving forward, the Pentagon is considering a permanent South China Sea presence for the Coast Guard.
Australia
Relations between Jakarta and Canberra hit a rough spell this week as Indonesia suspended some bilateral military cooperation over insulting training materials on display at an Australian Special Forces base in Perth. Indonesian military spokesperson Major General Wuryanto told reporters that, "Indonesia and Australia will resolve this technical matter and then the co-operation will continue." Confusingly, a spokesperson for Indonesian President Joko Widodo said that, "this was not a decision of the president." Indonesia last suspended military ties with Australia in 2013. For more on ties between these two countries, see this great piece by Allen Behm at The Strategist.
In other news, Conservative Party members are calling upon the Turnbull government to consider joining Washington in freedom of navigation exercises near Chinese-controlled artificial islands.
Japan
Four Chinese Coast Guard vessels again entered territorial waters around Japanese-controlled Senkaku/Diaoyu Islands. Chinese vessels last sailed these waters on December 26th. The Japanese Foreign Ministry lodged a protest with a Chinese minister in Tokyo.
Indonesia
Hary Tanoesoedibjo (Hary Tanoe), a billionaire developer and media mogul, announced that he may run for president in the 2019 elections. He is President-elect Trump's business partner and unsuccessfully ran to get his party's vice-presidential nomination in 2014.
Singapore
The saga of nine troop carriers seized in Hong Kong late November en route back from routine military training in Taiwan continues. A spokesperson for the Hong Kong Customs and Excise Department said that, "the suspected controlled items are still kept at a customs storage place in Tuen Mun."
Analysis, Commentary, and Additional Information
The new year led to a lot of deep thinking on what events of the past twelve months mean for the region going forward. First, three great retrospectives from East Asia Forum. Ronald Holmes warns that 2016 heralds a slide towards illiberal politics in the Philippines. Sheryn Lee explains why Tsai Ing-wen is stuck between a rock and a hard place notwithstanding her landslide electoral victory. Finally, Sam Bateman argues that the South China Sea has prevented the United States and China from addressing more existential threats to regional and global security (namely, North Korea).
China's seizure of a US underwater drone continued to propel scholarly commentary. Stephen Chen at the South China Morning Post explores whether China is developing a submarine signals network in the Pacific. Kristin Huang, also at the South China Morning Post, finds that the US and China need a framework for dealing with underwater drone clashes. For more on the strategic implications of this new type of hybrid warfare, see Tobias Burgers and Scott Romaniuk's piece at The Diplomat.
Finally, the new year would not be complete without a handful of contrarian voices. Steven Stashwick at The Diplomat argues that emplacing new weapons on China's artificial islands does not violate Beijing's understanding of non-militarization in the South China Sea. James Holmes at The National Interest asserts that too much has been made of the Liaoning's blue water expedition. Eric Gomez similarly shows that much more time and money will be needed to make a Chinese aircraft carrier on par with that of the United States.
Water Wars is our weekly roundup of the latest news, analysis, and opinions related to ongoing tensions in the South and East China Seas. Please email Chris Mirasola with breaking news, relevant documents, or corrections.