Water Wars: Hedging Bets in the South China Sea
Friday, January 20, 2017, 8:30 AM
Abe's South China Sea Charm Offensive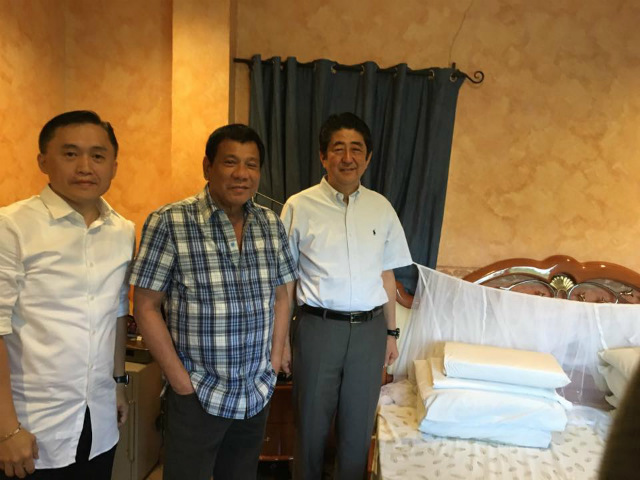 Prime Minister Shinzo Abe visits President Rodrigo Duterte's bedroom (Photo: Rappler)
Japanese Prime Minister Shinzo Abe followed last week's trip to Manila with a busy schedule of state visits to Canberra, Jakarta, and Hanoi reaffirming Japan's role in regional politics.
While in Australia, Prime Minister Abe and Prime Minister Turnbull agreed to a revised Japan-Australia acquisition and cross-servicing agreement, allowing Japanese forces to supply ammunition to the Australian military. Turnbull explained that the agreement "improves the capacity of our defense forces to provide each other with logistical support during exercises, operations and other activities." The pair also confirmed that they plan to move forward with the Trans-Pacific Partnership (TPP) and vowed to "maintain solid cooperation with the incoming Trump administration." Turning to the South China Sea, Prime Minister Turnbull "urged all parties to exercise self-restraint, and to avoid actions that would escalate tensions, including the militarization of outposts."
A similar bonhomie was displayed in Jakarta, where Abe met with Prime Minister Joko Widodo. The two leaders reaffirmed their commitment to increased maritime cooperation, formalized last month with a deal that boosted Japanese defense aid. Abe told reporters that "Japan will proactively advance cooperation in Indonesia's development of remote islands and maritime security." Japan pledged $640 million in loans for irrigation and coastal construction projects and discussed potential deals on a medium-speed rail line and key port. Once again turning to the South China Sea, Abe said that, "we assert the importance of the principle of solving a dispute peacefully." Defense and Foreign Ministers from both countries are slated to meet in Jakarta by the end of 2017.
Prime Minister Abe ended his tour in Hanoi, where he announced that Japan would provide six patrol vessels as part of a new loan dedicated to bolstering maritime security. Afterwards, Abe told reporters that, "we will strongly support Vietnam's enhancing its maritime law enforcement capability." No schedule has been set for delivering the patrol boats. Vietnamese Prime Minister Nguyen Xuan Phuc also struck an optimistic note on the TPP, arguing that, "many of the newly appointed members of the new [Trump] Cabinet are in favor of the TPP, so I think that Washington might reconsider its decision." Finally, the two sides penned a number of agreements on infrastructure development.
What was the strategic aim of Abe's tour through the region? The Prime Minister clearly had Washington on his mind. A senior Japanese diplomat said that, "there is a need to deepen bilateral relationships with Asian countries at a time of uncertainty." Abe made a similar point himself, telling reporters "Based on the solid foundation of the alliance with the United States, Japan is determined to achieve unshakable peace and prosperity in an area stretching from the Asia-Pacific to the Indian Ocean." Chinese officials suspected more sinister ends. Foreign Ministry Spokesperson Hua Chunying criticized Abe for "going to extremes to sow discord and play up regional tension. Such practice harbors ulterior motives and such mentality is extremely unhealthy."
Pundits also displayed a range of reactions to the trip. Euan Graham at The Interpreter critiqued the Japanese-Australian deal as falling "substantially short of the relationship's potential." Shiro Armstrong at East Asia Forum underlines the breadth of strategic ties between Canberra and Tokyo and Peter Drysdale argues that, "this is a time for assertive caution, not a time for meaningless assertion that nothing has changed in the world."
In other news...
China
Tensions with the incoming Trump administration flared up again after the President-elect told the Wall Street Journal that "everything is under negotiation, including 'one China'." John Bolton, former UN Ambassador during the Bush administration and key Trump advisor, also told the Journal that Washington "could enhance its East Asia military posture by increasing U.S. military sales to Taiwan and by again stationing military personnel and assets there." For a legal analysis of why Trump would have the authority to station military personnel in Taiwan, see this piece by Lawfare's own Julian Ku. Chinese officials did not react kindly to this renewed dalliance with changing the terms of US engagement with Taipei. Foreign Ministry Spokesperson Lu Kang reiterated that, "The one-China principle, which is the political foundation of the China-U.S. relations, is non-negotiable." Spokesperson Hua Chunying also said that, "everyone should understand that there are things in the world that are not for trade." Chinese official media was more forceful. The China Daily wrote that "If Trump is determined to use this gambit in taking office, a period of fierce, damaging interactions will be unavoidable, as Beijing will have no choice but to take off the gloves." The Global Times, a more hawkish publication, went so far as to project that Trump's strategy might prompt Beijing "to speed up Taiwan reunification." For more on reactions from State media, see this piece from the Daily Mail.
A number of important military developments also came to light this week. The armed forces' official newspaper warned that other countries were readying a comprehensive spying network that China "cannot afford to ignore . . . if war to break out tomorrow, intelligence would be our Achilles heel." The editorial advocated stronger counter-reconnaissance strategies that would allow China to "throw punches" in its defense. Speculation on a number of significant military appointments also abounded. Reports indicate that Beijing is likely to nominate its first naval officer, Vice Admiral Yuan Yubai, to lead the Southern Theater Command, which includes the South China Sea. Sources also believe that Vice Admiral Shen Jinlong is set to replace Admiral Wu Shengli at the helm of the PLA Navy. In other news, the guided-missile frigate Ningde conducted unspecified maritime exercises and, for our Chinese readers, additional support is being sent to build Beijing's first overseas naval base in Djibouti.
Two final pieces of news. First, senior Beijing officials expressed concern about the potential for sovereignty disputes to trigger "mass protests." Second, Beijing released a good (Chinese language) summary of the country's "transparent oceans" policy.
The Philippines
Manila continued to walk a tightrope in balancing its approach to warming ties with China. On the one hand, Military chief General Eduardo Ano announced that the Philippines would continue to observe a construction moratorium in the Spratly Islands to avoid "any aggressive action." On the other, President Rodrigo Duterte, in his meeting with Prime Minister Abe, acknowledged the importance of Manila's relationship with Washington. In response to Secretary of State-nominee Rex Tillerson's statement last week, Foreign Secretary Perfecto Yasay said that, "If it is the national interest of the US to prevent China from occupying disputed features in the South China Sea, they are free to do so as the area is within international waters."
Most notably, the Department of Foreign Affairs announced that it has filed at least three diplomatic protests against Chinese action in the South China Sea, including activities at Scarborough Shoal and installation of weapons on artificial islands in the Spratlys. It is unclear when these various diplomatic protests were filed. Yasay explained that the diplomatic protests were previously unreported because "aggressive, provocative action . . . will not solve the problem." Nonetheless, Yasay reassured Filipinos that, "When you want to renew ties with another country, it does not mean you are compromising or eroding your rights on certain matters." Defense Secretary Delfin Lorenzana had stronger words for Beijing, stating that, "the actions of China in militarizing those disputed features are very troubling" and that "they do not square the Chinese government's rhetoric that its purpose is peaceful and friendly." Chinese Foreign Ministry Spokesperson Hua Chunying responded that, "China has the righto deploy necessary and proper national defense on its own territory." Former Philippine Ambassador to the Washington Jose Cuisia Jr. said that the Duterte administration's diplomatic notes were "weak," projecting that Beijing would ignore them.
United States
A full range of official and semi-official responses greeted Secretary of State nominee Rex Tillerson's comment that China be denied access to artificial islands in the South China Sea. Foreign Ministry Spokesperson Lu Kang gave a measured statement, pointing out that "Like the US, the Chinese side has full right to conduct any kind of normal activities on its own territory within its sovereignty" and agreeing with Tillerson that "we should not let disagreements over other issues exclude areas for productive partnership." The China Daily gave a more pointed response, calling his remarks "intimidating, though he stopped short of elaborating how to achieve it." The editorial also noted that, "such remarks are not worth taking seriously because they are a mish-mash of naivety, short-sightedness, worn-out prejudices, and unrealistic political fantasies." The Global Times gave the most bombastic response, writing that Tillerson's proposal would require the US to "wage war" (Note David Wertime's admonition for how to interpret pieces from the Global Times). For a rundown of whether Tillerson's comments presage a more hawkish China policy team, see this piece from Stars and Stripes.
In his last visit as Secretary of State John Kerry visited Vietnam, where he reaffirmed Washington's increased security ties with Hanoi. Notwithstanding the Trump team's hawkish comments on China, Secretary Kerry projected that "the next administration will continue to adhere to the same good faith" with longstanding US policies in the Asia-Pacific. In other news, the USS John McCain conducted a patrol of the South China Sea and a bevy of current US Ambassadors in Asia spent their final days promoting the TPP to a skeptical Congress.
Vietnam
Abe's trip to Hanoi notwithstanding, Vietnamese Community Party Secretary Ngyun Phu Trong's visit to Beijing continued to make news this week. Reports indicate that the Chinese side largely shelved its maritime dispute with Vietnam during the talks. A full translation of the joint communiqué can be accessed here. It notes that the two countries agreed to "manage" their differences and safeguard peace in the South China Sea. At least a segment of the Vietnamese people, however, do not have a similarly sanguine take on the South China Sea. Police in Hanoi were called in to stop an anti-China protest organized to commemorate Beijing's seizure of the Paracel Islands in 1974. See this article for a look at what Vietnam is doing to support its sovereign claims in the Paracels.
Singapore
Senior Singaporean and Chinese officials met for the first time since Hong Kong Customs authorities seized troop carriers returning from military exercises in Taiwan. Chinese Vice-Foreign Minister Liu Zhenmin and Singaporean Permanent Secretary for Foreign Affairs Chee Wee Kiong agreed that the Joint Council for Bilateral Cooperation, the highest-level dialogue between the two countries, would be held next month. The impounded vehicles do not appear to be on the agenda.
Taiwan
Taipei conducted an annual drill simulating an attack by Beijing across the Taiwan Strait on Tuesday and Wednesday. Ministry of Defense Spokesperson Chen Chung-chi told reporters that "the military has active measures to deal with the situation in the Taiwan strait and the South China Sea, so the public can rest assured."
Japan
Tokyo will also get into the Taiwan Strait war-gaming mix. The Self-Defense Forces will test possible responses to a military clash between Taipei and Beijing. Sixteen F-35 Joint Strike Fighter, one of the most expensive and controversial US weapon systems, were deployed to Marine Corps Air Station Iwakuni, not far from Hiroshima. And finally, Toshihiro Nikai, a close aid to Prime Minister Abe, speaking on a TV program, asked whether it is "suitable for the president of a superpower to rant something in a unilateral and hysterical manner?" Nikai was particularly critical of President-elect Trump's statements concerning trade.
Cambodia
Defense Ministry Spokesperson Chhun Socheat announced that what would have been the eighth annual Angkor Sentinel joint military exercises with the United States have been cancelled. Socheat refuted intimations that the cancelled exercises have to do with closer China ties, claiming instead that upcoming local elections are dominating the country's security work.
Malaysia
The Royal Malaysian Navy announced that it will establish three permanent submarine exercise areas in the South China Sea.
Analysis, Commentary, and Additional Information
Tillerson's statement, as well as President-elect Trump's inauguration, has fueled a torrent of pieces on the future role of the United States in the Asia-Pacific. Emily Tamkin at Foreign Policy outlines the dangers of what she sees as Trump's propensity to provoke China even before his inauguration. Bill Hayton queries whether Tillerson would actually be willing to go to war over the South China Sea. Shi Yinghong at China-US Focus looks more broadly at what Tump will mean for China. Fred Hiatt at the Washington Post discusses how the incoming administration could transform the United States' relationship with China and David Brown at East Asia Forum explores what a Trump deal with China might look like.
Of course, China is not the only relationship at stake. The Yomimuri Shimbun worries what China and Russia might do to change the postwar liberal order during the Trump administration. Evan Medeiros, once a senior Obama administration Asia advisor, expresses concern that US-ASEAN ties are headed for strategic drift. Finally, Allan Behm at The Strategist explores what the Trump administration will mean for Australia.
Notwithstanding the inauguration, analysis of the South China Sea continues unabated. AMTI analyzes long-term strategic options for managing tension in the region. Maksim Kazanin at SouthFront argues that China has almost finished creating an infrastructure that would allow it to control the South China Sea. Peter Layton at The Interpreter similarly finds that China's military now dominates ASEAN. The Financial Times offers an overview of Chinese maritime power projection and Zachary Abuza and Nguyen Nhat Anh summarize Vietnam's robust military modernization.
Water Wars is our weekly roundup of the latest news, analysis, and opinions related to ongoing tensions in the South and East China Seas. Please email Chris Mirasola with breaking news, relevant documents, or corrections.